Navigating the loss of a loved one can often feel overwhelming and isolating. Hospice of Davidson County hosts year-round events supporting and recognizing caregivers, families, and individuals as they navigate the end-of-life journey. Our community engagement events provide an opportunity for fellowship, growth, and awareness for anyone navigating, supporting or processing a hospice journey.
---
Caregiver Academy
Caregiving is a challenging role that is draining and often under-appreciated. Most caregivers have to dive in with no training and little support. Held quarterly, different topics are covered in a lunch and learn environment, so you can be a confident, courageous and competent caregiver for your loved one. These free luncheons are taught by community experts and are open to those who provide care to their family members.
Registration is required. To register, call 336-242-2290 or click here to email.
Virtual Grief Support Group
Due to the ongoing pandemic, and to limit people's exposure, we offer a "Virtual Support Group" on the second Monday of every month from 6 – 8 p.m. To register, click here to email our team of counselors.
In-Person Support Group
We are excited to begin offering an in-person support group. Our first group session will be on Wednesday, April 6th from 2-3pm. Participants must register by April 4th at 5pm. Sessions are limited to 8 participants, so once registered, please let us know if you are unable to attend.
This group is open to the community and Hospice of Davidson County families. Emily Lewitt, one of our Grief Counselors, will lead this group each month with various topics that are relevant for the needs of the group.
To register, click here to email our team of counselors.
---
November 20, 2022 – Hospice Sabbath
We invite all faith communities to observe Sabbath on Sunday, November 20 by placing a single white rose in their sanctuary, requesting a HODC Speaker, including a hospice awareness bulletin insert, and/or playing a short video during service. Hospice of Davidson County will provide all resources. If you are a faith based organization, please fill out our interest form linked below by Wednesday, November 9 so that we may deliver these resources to you.
Hospice of Davidson's Annual Night of Reflection Luminary Event & Ornament Sale
Ornaments and memorial luminaries will be sold November 1 – December 16. Luminaries will be displayed on campus December 2 – January 6. Ornaments can be picked up at the Hospice of Davidson County campus after Monday, November 28.
While luminaries can be viewed on campus during December 2 – January 6, we will be hosting Night of Reflection in the community. On Tuesday, December 6 we will be in Thomasville at the Bandstand behind the Chair on Main Street from 5 – 7 p.m. On Thursday, December 8 we will be in Lexington at the Davidson County Historical Museum on Main Street from 5 – 7 p.m.
For more information on both events click here.
April Is National Health Care Decisions Month
Keep an eye on our Facebook page to learn more about advance directives and other important health care decisions.
April 2023 – Hospice of Davidson County's Annual Golf Tournament
Thank you to everyone who participated in our 13th Annual Golf Tournament! We look forward to spending time with you on the golf course in 2023.
July 15, 2023 – Hospice of Davidson County's Annual Ride for Angels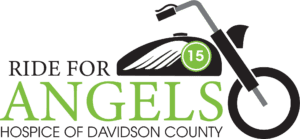 We want to thank everyone who came out to Denton FarmPark on Saturday, July 16. We welcomed back 280 participants to the park and had a great event. We look forward to seeing everyone again next year!
October 2023 – Annual Professional Conference on Grief & Loss
We would like to thank all who attended this year's Annual Professional Conference on Grief & Loss. We hope to see you again next year!