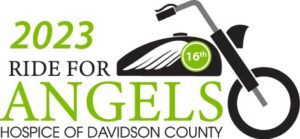 Saturday, July 15 | Denton FarmPark
We look forward to seeing everyone again at the Denton FarmPark on Saturday, July 15 for our 16th Annual Ride for Angels Event! The ride will be led by the Davidson County Sherriff's Department along with other agencies assisting with rider safety and directions. Click below to register!
Registration
$25 per bike
$10 per co-rider/passenger
Those who registered early and purchased t-shirts (before July 9) can pick up their shirts at the Hospice of Davidson County campus beginning Thursday, July 13. Shirts will also be packaged and ready for you on the day of the ride if that is preferred.
Ride Schedule | Saturday, July 15
8:30 a.m. Registration
11:00 a.m. KSU
12:00 p.m. Lunch
T-Shirts – $15, adult sizes Small to 3XL available
Rocker Bars – $3
Raffle Tickets – $1 for 1, $5 for 6, $10 for 12, $20 for 24
For any questions, please reach out to Kimberly Gleiser, Community Engagement Manager at 336.475.2069 or kgleiser@hospiceofdavidson.org.
About the Route
The route begins and ends at the Denton FarmPark, home of the Southeast Old Thresher's Reunion. The ride is approximately 75 miles. (Denton FarmPark 1072 Cranford Road, Denton, NC 27239) Download Route Details here. 
Pit Stops
Not a rider? Join us for lunch at S&S Grill in Thomasville, NC from 10 a.m. – 2 p.m. on July 10 – 12. A portion of the sale will be added to the total funds raised during the event. We will be selling t-shirts, taking registrations, and hosting a 50/50 raffle during our time with the S&S Grill Crew.
Thanks to our Sponsors! Gold Sponsor

ANYTHING'S POSSIBLE, INC. 
Silver Sponsors