Night of Reflection will be returning to Hospice of Davidson County's campus, Thursday, December 7. Join us from 5 – 7 p.m. for a time of reflection, prayer, meditation, and refreshments for those in attendance.
Luminaries will be on campus from December 1 – January 5.
Ornament and Luminary Sale
The holidays are a special time to remember loved ones and honor cherished memories. Hospice of Davidson County invites you to honor the memory of your loved one this holiday season by purchasing a holiday ornament and luminary with your loved one's name.
Our Ornament and Luminary Sale will open Wednesday, November 1. Prices and images are listed below. Please note that we will also have the angel again this year but a very limited supply.
Click the button below to order!
Ornament & Luminary Price List:
Ornaments – $20
Luminaries – $10
Ornament & Luminary – $25
Angel – $25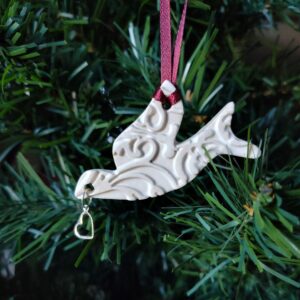 This year's ornament created by Breanna Macon of Macon a Mess Pottery.
Angel with tea light created by Gwyn Stone.