Ways to Donate
You can have an immediate impact on the patients we serve by making a donation, collecting in-kind donations, supporting our Partners in Care, and volunteering. For more information about making a donation, please contact Brad Gaither, Director of Community Relations, at 336-475-5444.
You can make a donation through our Donation Form or by mailing a check to Hospice of Davidson County, 200 Hospice Way, Lexington, NC 27292.
Hospice of Davidson County is a tax-exempt non-profit organization and we accept both monetary and in-kind donations. The most popular type of gift we receive is a donation made in memory of a loved one.
Learn more about our services and funding opportunities from our annual report.
Make A Donation
The Founder's Circle is an exclusive giving society recognizing individuals who make an annual gift at the leadership level ($1,000) or higher. Launched in 2014, the society honors the dedication and determination of our agency's first leaders while elevating the importance of preparing for our agency's future. Members of the Founder's Circle are invited to participate in special events and network programs at Hospice of Davidson County including an exclusive reception recognizing our highest level supporters.
Mr. and Mrs. Jerome Amos
Mr. and Mrs. Johnny S. Beck
Dr. and Mrs. James Black
Ginny and Brent Blair
Ms. Clara Bonnett
Mr. and Mrs. Steven Byerly
Mr. and Mrs. Dill Cecil
Rebecca and James Daley
Mr. and Mrs. Bill Distler
Mr. and Mrs. David Dunn
Ms. Betty L. Easley
Rozella Everhart
Ms. Debbie Fanary
J. E. and Marylen Forbis
Linda Franz
Mrs. Elizabeth W. Fuller
Mr. and Mrs. F. Wayne Gregg
Dr. and Mrs. Sam Harris
Mrs. Carolyn Hawkins
Mr. Paul Holmes
Mr. and Mrs. Glen Hubbard
Mr. James G Hudson Jr. Jr.
Mr. Joseph E. Hughes
Mr. Robert F. Lowe
Christy Martin
Mr. and Mrs. Dan Moore Jr.
Gail Morris
Mr. and Mrs. Mark L. Myers
Mr. and Mrs. Monty Oliver
Laura and Brad Owen
Mr. and Mrs. Nathaniel Pendergrass
Mr. and Mrs. Wayne Rosier
Mr. And Mrs. James F. Shinn ll
Mr. and Mrs. Ian Silversides
Mr. and Mrs. Mark Swaim
Jane Whitehurst
Judith G. Widener
Dr. and Mrs. Gordon Wright
The Partners in Care program offers opportunities for local businesses and organizations to support our patients and families while bringing visibility to their organization at the same time. These local companies and organizations have invested in Hospice of Davidson County, and have committed to supporting our agency with a cumulative giving total exceeding $1,000 annually.
Anything's Possible, Inc.
Best Disposal/Todco
Brasscraft – Thomasville
Center United Methodist Church
Choice Home Medical Equipment, Inc.
Don Juan's Mexican Restaurant
First Bank – Liberty Square
First United Methodist Church
Foundation For The Carolinas
Frontstream
Homer Shaw Memorial Golf Tournament
IBM Employee Services Center
Julius Smith Young Jr Charitable Fund
Lexington Golf Shop, Inc.
Lois L. Brinkley Foundation
Novant Health
Ole North State Line Siders
Parrott Benefit Group
Pauls Chapel
Pinnacle Financial Partners Inc.
Rich Fork Baptist Church
S. & S. Grill
Sapona Charitable Foundation
Signworks of North Carolina, Inc.
State of NC DHHS – Division of Aging – State Fiscal Recovery Fund
Sun Fabricators, Inc.
The Benevity Community Impact Fund
The Blackbaud Giving Fund
The Eddie and Jo Allison Smith Family Foundation, Inc.
TP & JC Leonard Trust
United Way of Davidson County
United Way of Forsyth County
United Way of Greater High Point
Younts Insurance Agency, Inc.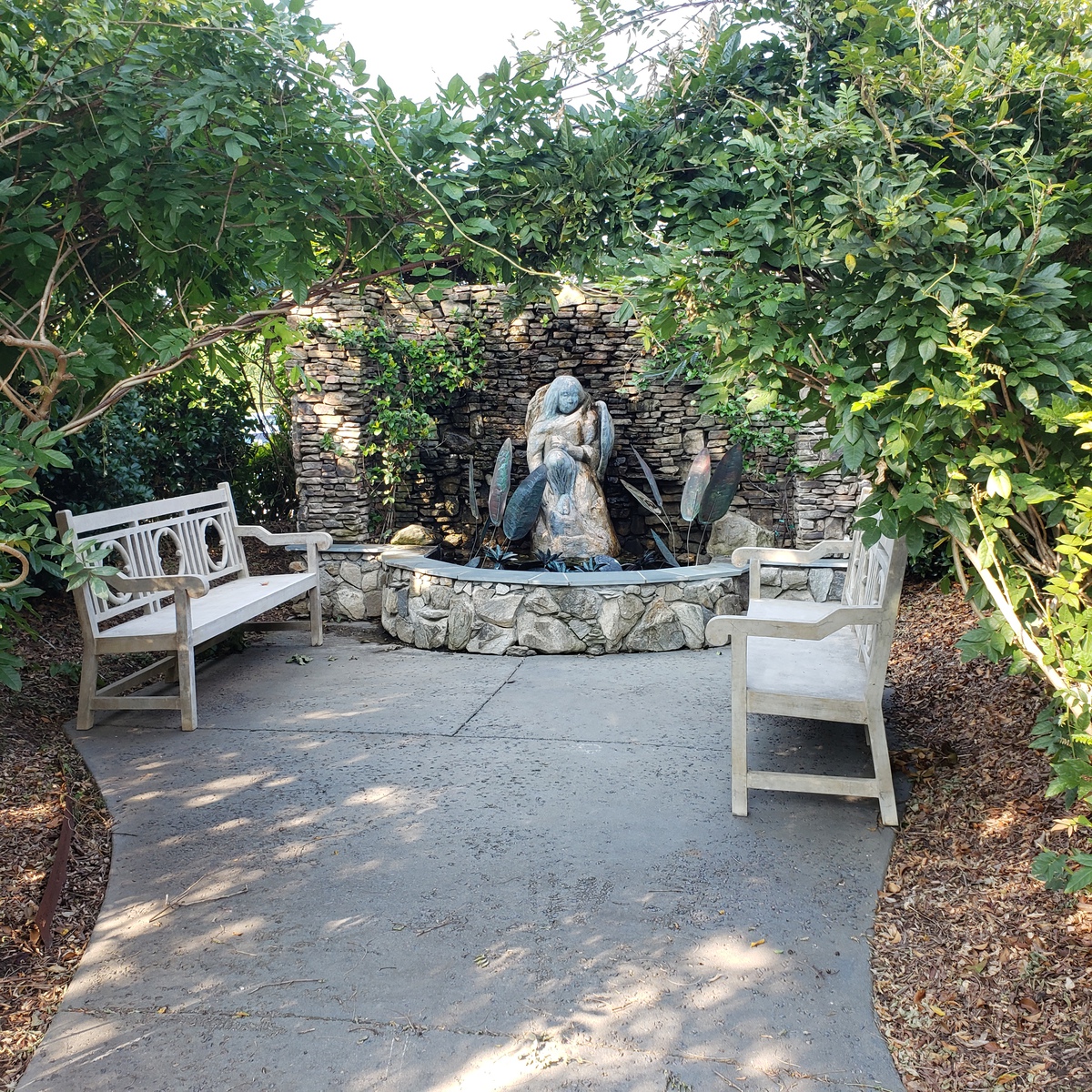 The Hospice Serenity Garden
We are grateful to be surrounded by a bountiful landscape of more than 30 acres, much of which has been transformed into a spiritual and therapeutic sanctuary for our patients, their families and the community at large. These gardens serve as a place to lift one's spirit, provide healing, and impact lives for generations to come.