September 1, 2022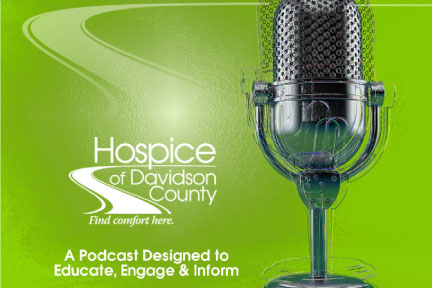 Hospice of Davidson County features their own "Community Connections" podcast that provides education, highlights public resources and connects listeners to supportive services.
The pandemic has shifted priorities and operations for many organizations, Hospice of Davidson County being no different. As Laura Owen, the organization's CEO, states, "the pandemic prompted our Agency to reassess service provision and offer additional resources for our community as it experienced death and loss in numerous ways." In doing so, Hospice has leveraged technology to create a resource that has been utilized all across the world.
Hosted by Cole Warner, the organization's Digital Health Program Manager, the "Community Connections" podcast was created with three primary objectives; to adapt, connect, and evolve outreach with community stakeholders during the pandemic. Since its inception in January of 2021, the podcast has released over 40 full-length episodes reaching listeners across 33 states and 10 countries. Hospice of Davidson County is committed to making the topic of hospice care approachable and better understood, especially for those in Davidson County.
Recently, Cole and Laura added newly elected Mayor of Lexington, Jason Hayes, to the growing list of esteemed podcast guests. Mayor Hayes discussed the City's upcoming Health Equity Conference, located at Lexington Senior High School on Friday and Saturday, August 12-13. Day 1 of the conference consists of two educational track options, lunch and a keynote speech from Angela Bryant, the Assistant Secretary for Equity & Inclusion, NCDHHS. Day 2, also located at Lexington Senior High School, is a public Health Equity Fair. The community is invited to attend the Fair from 9am-2pm as local organizations provide information, resources and supplies to equip our community with the tools to live healthier lives.
The "Community Connections" podcast is just one way Hospice of Davidson County demonstrates a strong commitment to partner with other healthcare and human service providers to enhance the foundation of living well in our community. "Our commitment continues to include integrating new technologies whiles expanding the patient care experience," says Laura Owen, CEO. "Sustaining services during a pandemic taught us that effective and meaningful care can occur via digital platforms." In addition to the Podcast, Hospice recently launched a new website that features accessible hospice care resources and patient referral information.
Moving forward, Hospice is committed to removing the barriers surrounding end-of-life conversations in a way that allows for increased education, awareness and engagement with the community. The organization also plans to continue partnering with and highlighting local organizations and individuals in Davidson County. "We recognize that in working in partnership with other human service organizations we can more effectively meet community needs," says Cole Warner.
To listen to the "Community Connections" podcast, visit www.hospiceofdavidson.org. The podcast is also available on additional platforms, including Apple podcasts and Spotify.
Back To Blog
Latest Posts