2022 Annual Professional Conference on Grief & Loss
October 6, 2022 9 a.m. – 3 p.m.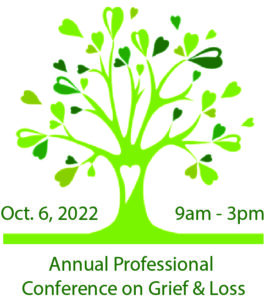 REGISTRATION IS NOW OPEN!
Tickets are $50 per person. Registration closes on Friday, September 30, 2022. Click the link below to register.
This is a virtual conference, and you will be provided credentials for accessing the conference approximately one week prior to the event. Your participation throughout the day via questions and comments will make this dynamic event more engaging and helpful for all.
Topics
Grief through the eyes of multiple populations
Frameworks and interventions when working with children
Impact of the pandemic on grief
Supporting grieving in a society that discourages negative emotions
Navigating grief and a pandemic for healthcare providers
About Keynote Presenter
Lisa Athan, M.A. has been a leader in counseling, grief, and bereavement services for almost 40 years. Currently, Lisa acts as the Executive Director of her founded organization, Grief Speaks. In addition, Lisa is a co-founder and child bereavement specialist with Camp Clover in Warren, NJ. Through her education and experience, Lisa has vast knowledge and training strategies for all ages.