At Hospice of Davidson County, we understand that our staff are what keep us going. Our goal is to ensure they have the workspace, resources, and environment to continue to provide exceptional care to our community.
Currently, our "HIPAA area" – which is our workspace for home care and facility clinicians, is undergoing an exciting renovation. Thanks to approval from our Board of Directors to allocate state funding for this project, this space is receiving a modern restoration that includes new furniture, enhanced lighting, new flooring, painting, a powder room, and a coffee bar. We have removed rows of cubicles to provide a more open space for collaboration and/or individual workspaces. New case goods include "phone booths" that allow for a private space for phone calls, various tables for meetings and teams, and individual seating areas that provide opportunities for solo work and/or charting.
Please take a look at how this current project is shaping up.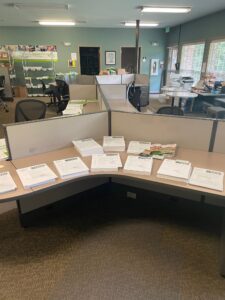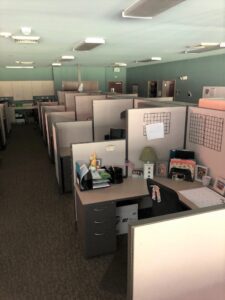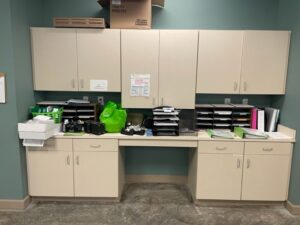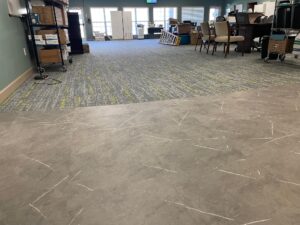 However, this is just the start. We also envision an exterior terrace that provides an outdoor workspace for staff, a beautiful setup for board meetings and events, and a common area for reflection and calm for patient families. This space would include a water feature, seating areas, greenery, and an architectural design to match the integrity of other areas of campus.
Perhaps most importantly, this terrace would act as a bridge to an external storage building that allows for the proper space for patient supplies, patient and financial records, and PPE (personal protective equipment). This climate controlled storage space would allow us to utilize areas that have been transformed into necessary storage, to once again be used for office space and collaboration.
See professional renderings of terrace concepts, below.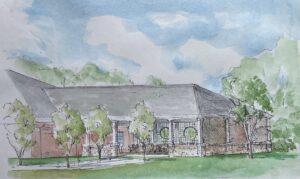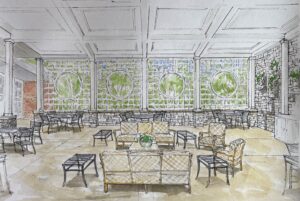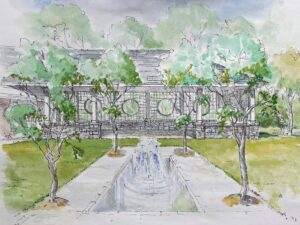 These projects do not come easy. They are not budgeted to be covered by operations, and they will require external funding. However, we know, and studies have shown, that creating a more supportive work environment will increase both effectiveness and belonging for our staff.
We are calling all supporters, partners, advocates, and family to consider joining us in this effort to take this much needed step in improving our campus and resources for staff. Through your support and investment in our agency, you will provide our team with the physical space that will lead to supportive and efficient environments.
If you would like to visit campus to further understand these goals, see the current project in motion, or take a look at storyboards for the future – we invite you to join us for lunch and a tour at your convenience. If you have friends, family, or community members who would support this, please bring them along and connect them to our mission and future.
Thank you for your continuous support and consideration of future investment.